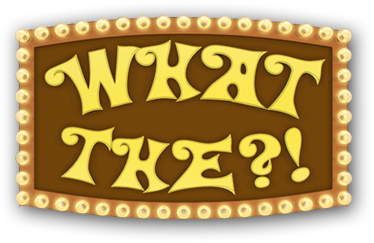 ---
What The?! is a trivia game for the XBox 360. The game is presented in the style of a 1970s game show with hundreds of modern trivia questions read to the players. Up to 4 players can compete against each other in a local multiplayer game or you can play in single player mode to win 'cash' and 'prizes'.
Game features
Multi-player - 1 to 4 players can play on your local XBox 360.
Play as your XBox 360 Avatar.
Hundreds of unique questions read out loud by the games hosts.
Questions range from easy, medium, & hard
Choose from 5, 10, 15, or 20 questions per game.
4 modes of play

Normal - No time limit, straight question and answer scenario.
Buzz-In - First player to buzz in, gets to answer.
Timed - 20 seconds per question, the faster each player answers the more 'cash' they can win.
Fastest Fingers - 20 seconds per question, first player to answer gets the full money, second player gets half as much, and so on.

Customize the soundtrack - listen to your own music stored on the XBox while playing or just groove out to the Social Loner Bands awesome tunes.
Awesome virtual prizes for getting questions correct & fabulous grand prizes to the winner.
---
Screen Shots
---